GO
GATORS!
I said it's great... to be... a Florida Gator! WOOHOO! We had a wonderful day of tailgating in the frigid cold and an even better game against Alabama to win the SEC Championship! As always, I am so proud to be a Gator, but especially after the hard fought win. Timmy Tebow is such a heartthrob... swoon.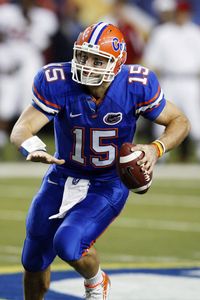 I just love him and the way he elevates the play of everyone around him. And, our entire team just played fantastically... from the amazing TD catches of Carl Moore, David Nelson and Riley Cooper to the defense holding Bama to a couple fieldgoals in the red zone to Joe Haden's interception to Jeffery Demps' speed and of course, to Tebow's heart, determination, leadership, and sheer ability... this is just a great football team. I look forward to seeing a healthy Percy Harvin in the BCS title game and to another Tim Tebow HE15MAN. :) He deserves it (along with a few other amazing players, so it will be interesting).

Here are some pictures from "The Tailgate of All Tailgates."


Yum, Bloody Mary... hers was a virgin cocktail, of course!
J, Dai & K - BFFs!
Aunt Dai, Mommy, Baby Madelyn, and Aunt K!
The Mr. and Mrs.
Cute purses!
Where's BD? :)
Katie, the official hand warmer.
And, last, but certainly not least, what a cute koozie you have!
I'm sure it's not hard to see that we had a great time. We didn't end up getting tickets to the game, so we wandered in to the Hilton Garden Inn downtown. We sat in their lovely lobby and enjoyed the game in front of a fireplace and a 60" plasma with the Legal Seafood bar right next door. The best part besides the win was getting to catch up with my college friend and sorority sister, Katie. Perfect! Next up on the CHOMPING block... the Oklahoma Sooners! You know what they say... if you're not a Gator... you're GATOR BAIT!